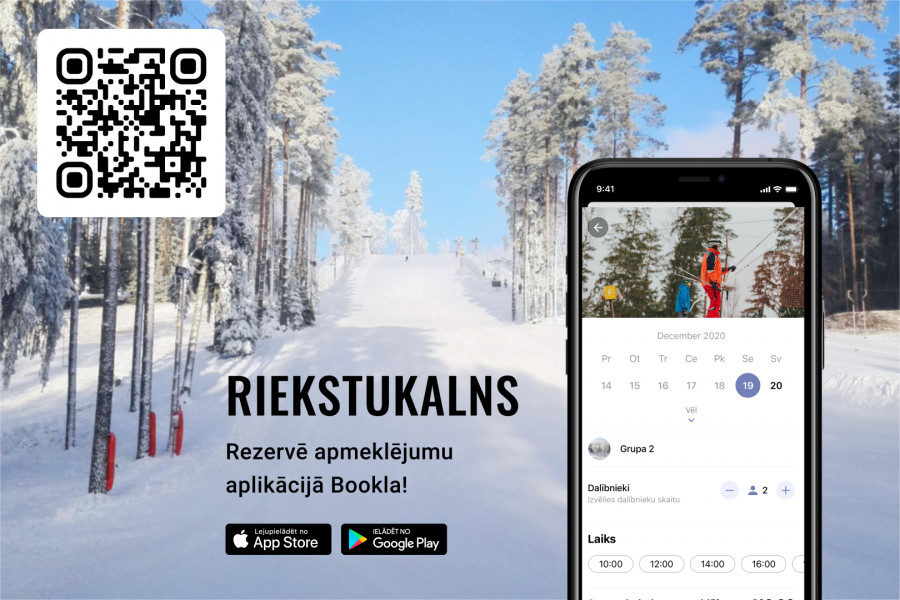 We have found solution to offer prepaid reservation. Now there are 2 ways to book your time at Riekstukalns:
- booking in mobile aplication Bookla that is free of charge. We are opening booking 4 days ahead at 12 p.m. e.g. on Monday we are opening times for Thursday.
- prepaid reservation at www.bilesuparadize.lv. This booking can not be cancelled and you can't get a refund, unless we are closed.
Sledding Hill, the Boardercross slope and Cross-country skiing slope won't be available this season. Other slopes are open!
Other important things in the emergency situation:
- The equipment for rent is possible to get only outside the house! Follow the signs to find the right place! Please arrive at the rental on time, at least 30 minutes, to be able to receive the inventory before the booked mountain visit time!
- Unfortunately, it will not be possible to change up in the rental premises. We invite you to dress up at home or in the car!
- Meals at the cafe will be available only for take-away!
- While waiting at the ski-lift and waiting for your descent from the mountain, please observe a distance of 2 m from each other!
- Instructors can be booked as before by calling 26220000. Instructors will be marked as a meeting point at the Beginner Track, not in the rental premises as before.
Let's be understanding! This situation is new for both us and you, and we do our best to make everything work, but we look forward to your response if there is a delay!